As a member of the "baby boom" generation, I will admit to growing up in a time of "plenty." My parents were raised, married and had children during the depression and war years from 1912 through 1946. Their values and habits of "use it up, wear it out, make it do or do without" influenced how they handled their goods and money. My mother could make a meal out of the smallest pile of leftovers and as children we never noticed or felt deprived. It wasn't until she passed away and I had to clean out her cupboards and closets that I realized how thrifty she was. I found things like extra thread and saved buttons; scraps of fabric ready to patch knee rips; recipes that started with leftovers; piles of delicate hankies, neatly pressed and folded; rags from used sheets and clothing ready to grab to clean up a spill. There was no stash of paper towels or Kleenex in her cupboards.
By the time I married and had children, those values of thrift had been overwhelmed by advertisements for consumables…don't fix things, throw them out and buy this new model. Over the years, throwing things away became necessary…things were often made of materials that could not be fixed like plastic instead of wood or metal. Luckily, I married a man who can fix almost anything. His shop full of parts and tools along with his knowledge about how to use them has saved us from throwing things away that just needed an easy fix. While I realize my stash of supplies and tools solve other problems that deal with fabric and clothing, my habits have changed so I'm more dependent on consumables like paper towels and Kleenex. It wasn't until the supply chain shortages of some items that I realized my behavior has strayed from the values of my parents. This was especially obvious in my use of paper towels. I use a LOT of paper towels in my day-to-day activities…when cooking, cleaning up the counters, preparing food, etc.
Needless to say, when shortages of paper towels appeared I panicked. My impulse was to stock up like crazy…so I'd never run out! The longer the shortages continued, the more I felt that I needed to change my behavior. Obviously, lots of folks manage to keep a neat and tidy kitchen without paper towels!
First Attempt
I was enticed by some ads on Facebook for various substitutes for paper towels made from recycled plastic water bottles (www.geometry.house). They looked pretty and they were washable. Why not?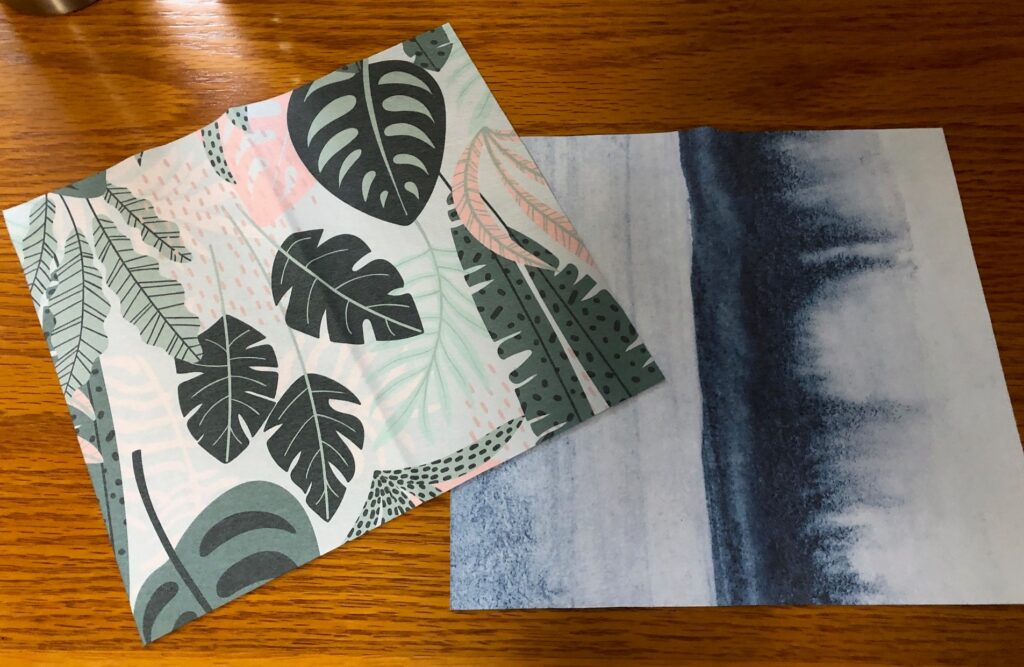 So, I ordered two sets of 12 and the wooden tray to store them in on the counter. The way I use paper towels it had to save money, right? When they arrived, I first put them in the wash. It was like washing pieces of plastic bag…they stuck together! I gently pulled them apart and put them in the dryer on low. Once dry I could fold them in half and stack them up in the wooden tray.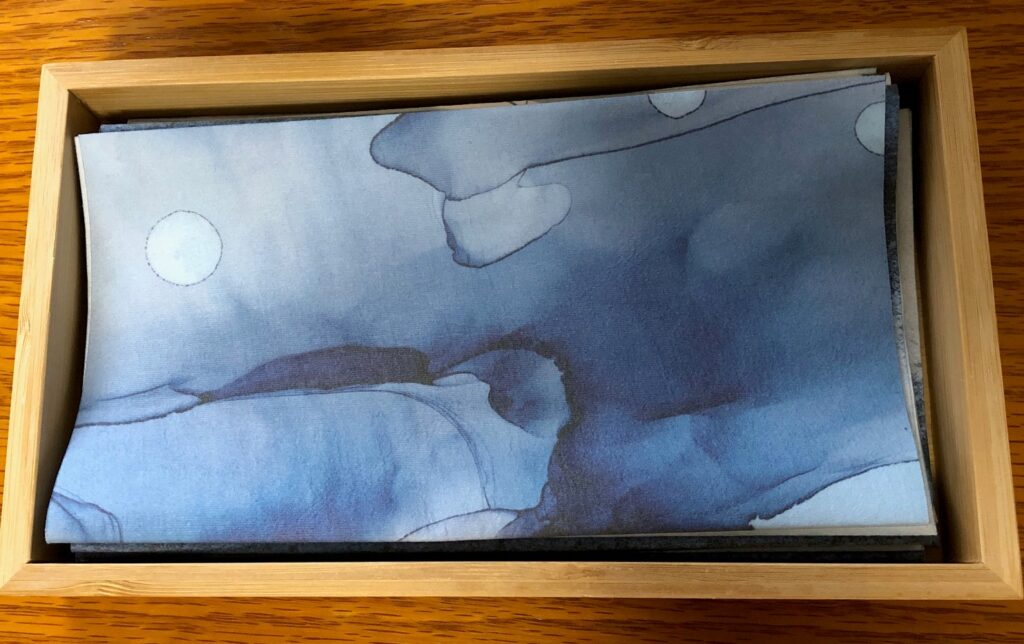 Now came the test. My counters were wet from placing rinsed dishes on the counter while I loaded them into the dishwasher. These cloths would not absorb anything, they just smeared the water around. I rinsed one out and hung it to dry. It took 24 hours to dry. So that experiment was a bust! What a waste of money. I'll have to see if I can use them for an art project or something.
Second Attempt
I had forgotten that I went through a phase 10-12 years ago of trying to do better about using paper towels. I found in the back of my cupboard a roll of "washable bamboo towels." The company, www.bambooee.com, sold these rolls of towels, called The Un Paper Towel to save trees. They are made of woven bamboo fibers and are reusable, machine washable and bleachable. Each sheet is about 11″ square and rips off like a paper towel. It is basically a rayon fabric made from bamboo. This company is still in business too so check them out!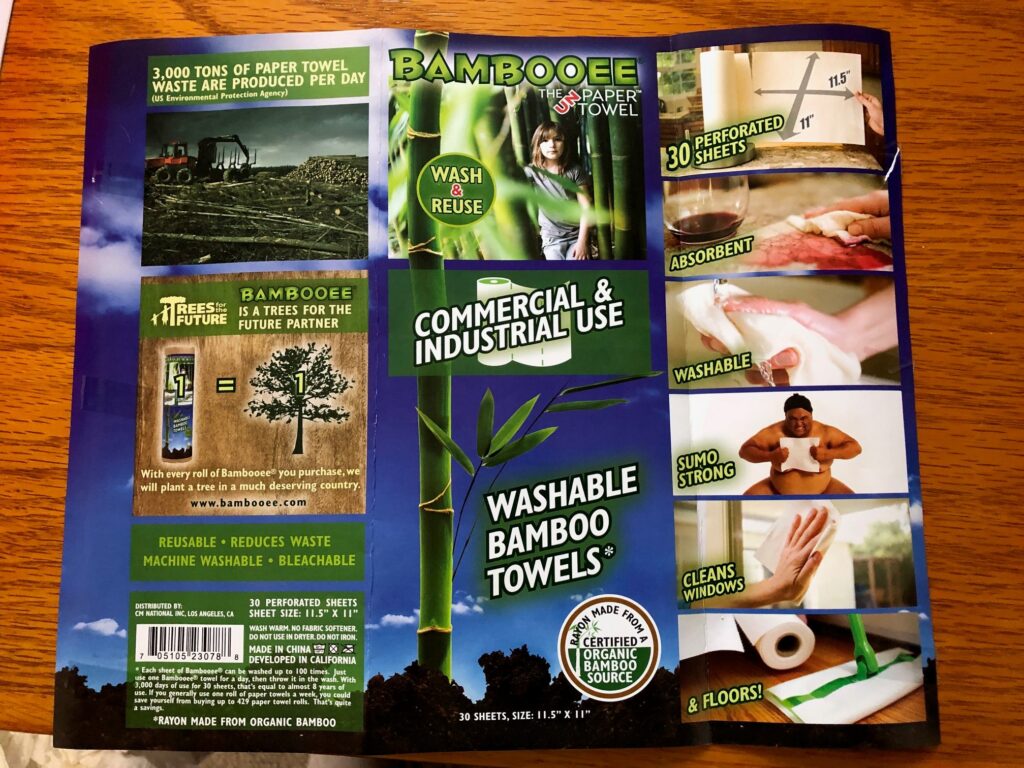 So, I pulled out the roll, tore off a sheet and gave it a try. The first swipe to clean up the water on my counter convinced me! It cleaned right up! Of course, next came the dilemma of how to let it dry. I didn't want to drape it over the spigot or the handles that open the windows. Luckily, several years ago Bert made me a little drying rack in the kitchen that folded open to let things dry. It has been folded up for a while but it worked great to let the cloth dry.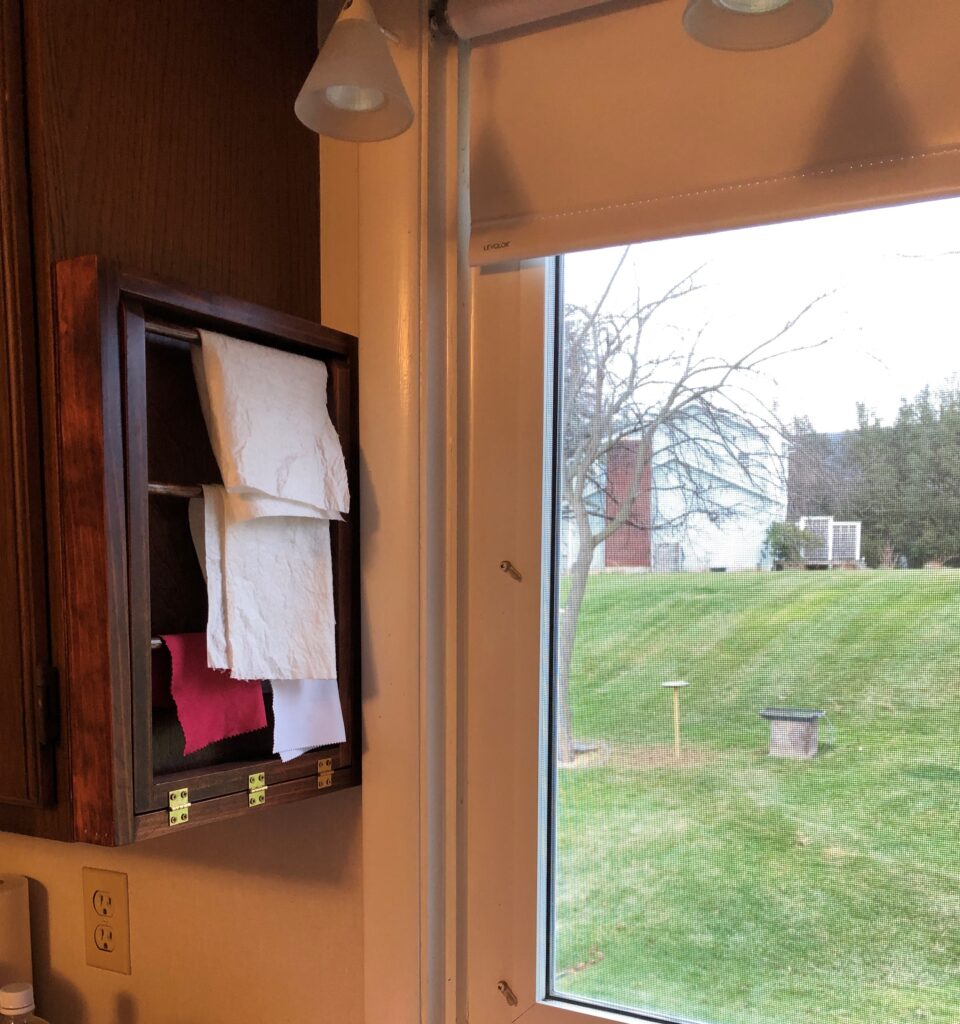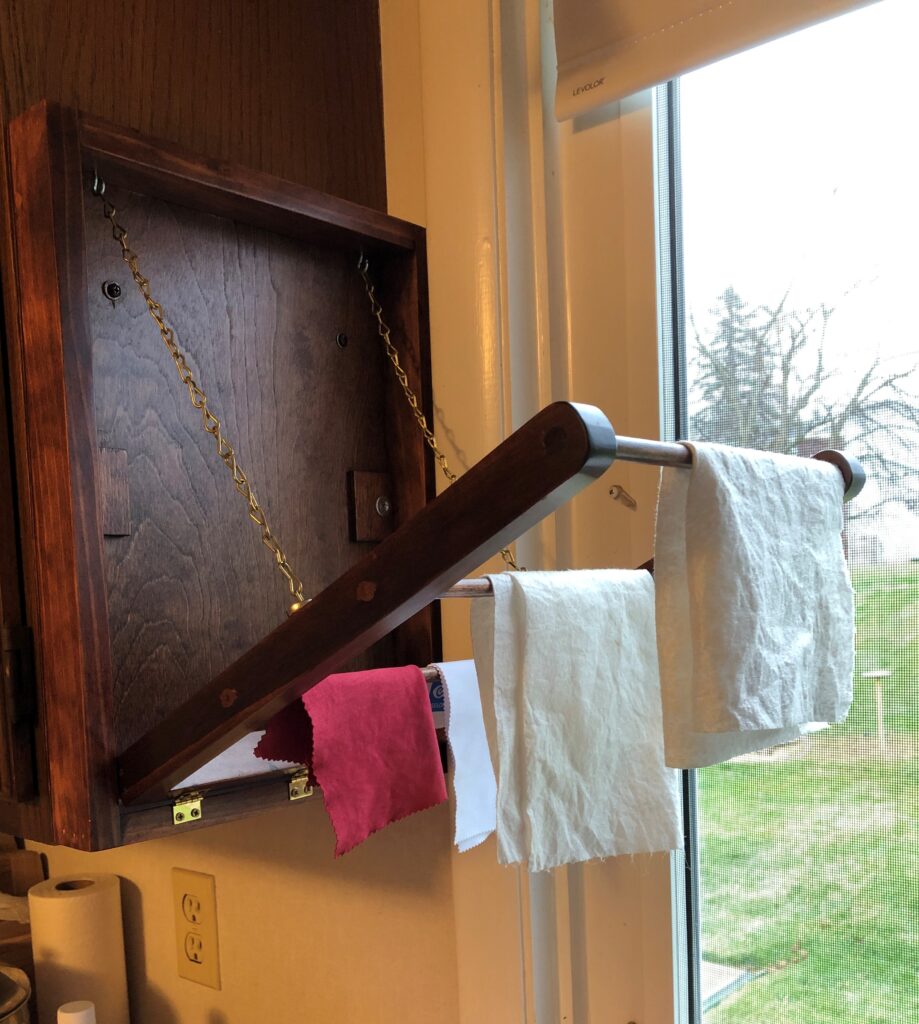 I finally rinsed out the un-paper towel and hung it to dry. A few hours later it was completely dry. After a day or two wiping up water on the counters, I'll throw it in the wash! Yea!
Now comes the test…can I change my behavior and grab the reusable bamboo cloth? It would be so great to not worry about shortages of paper towels.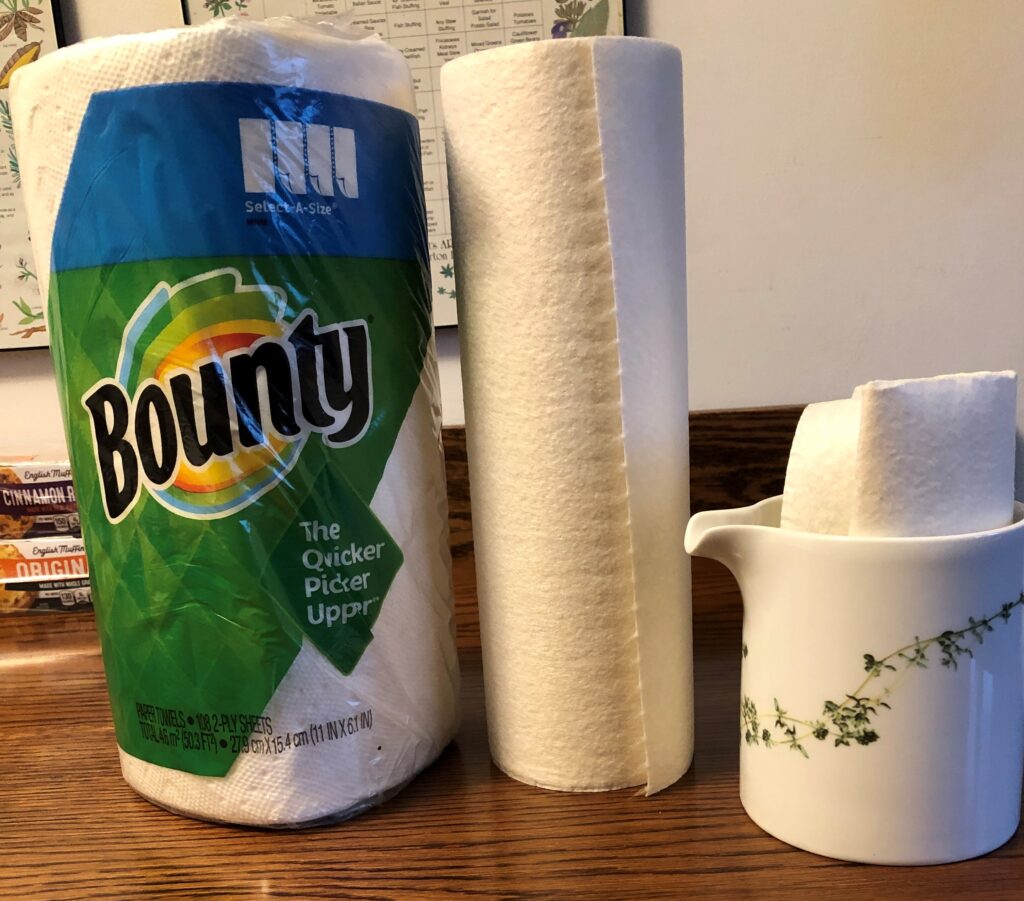 I'm not sure I'm ready to replace my Kleenex with cloth hankies but if shortages happen, I know I have a stack of pretty hankies ready to go! Thanks, Mom!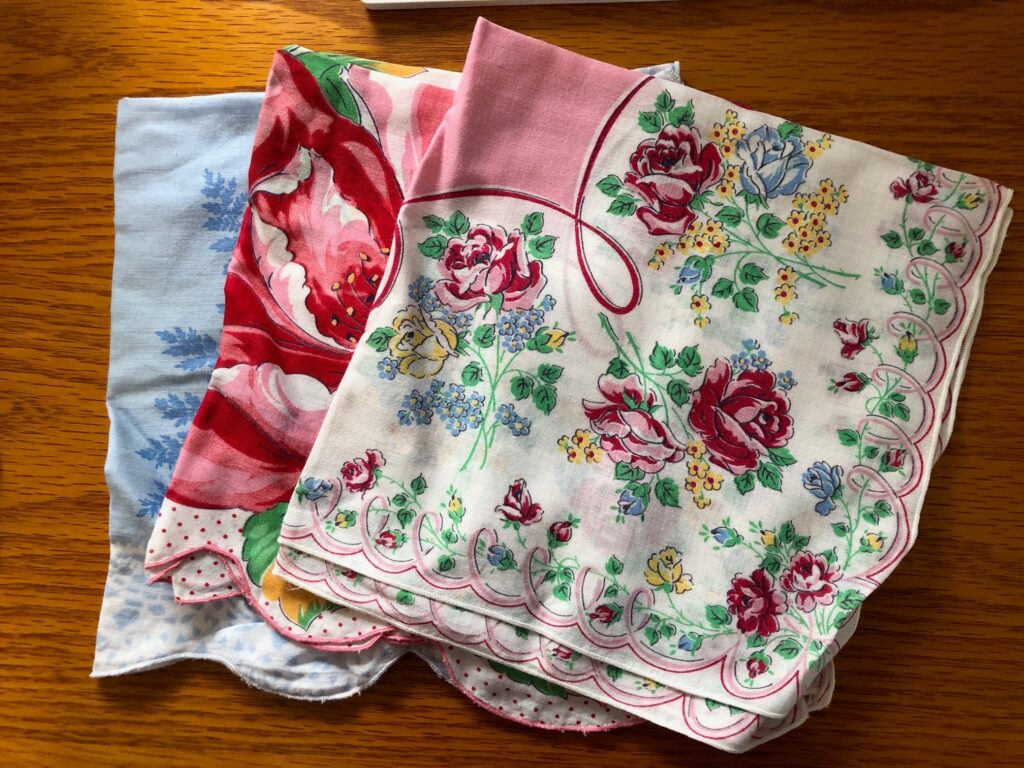 Please comment or email me directly at marykisner@comcast.net.