Yesterday I was ready to try two new lip balm flavors: Maple Coffee and Orange Vanilla. I wanted to do this last weekend, but I had to order the ingredients for the Maple Coffee (of course, from Amazon).
Usually, I insert the empty tubes into this holder and when I stand the holder up, I can pour the hot melted lip balm from the top: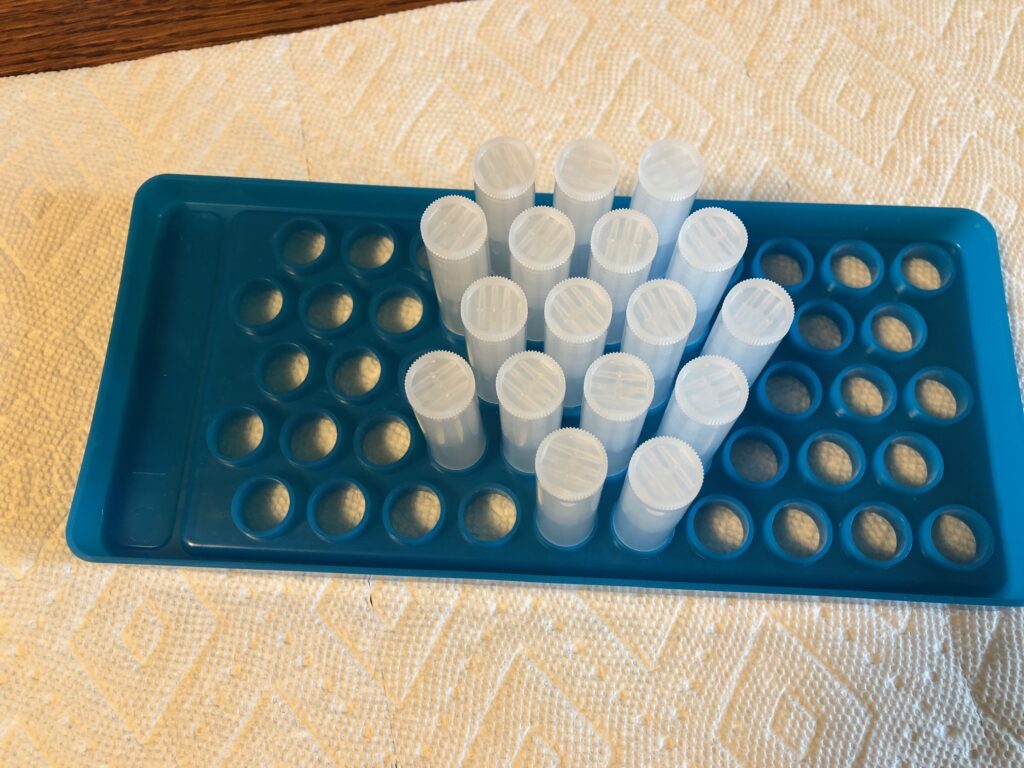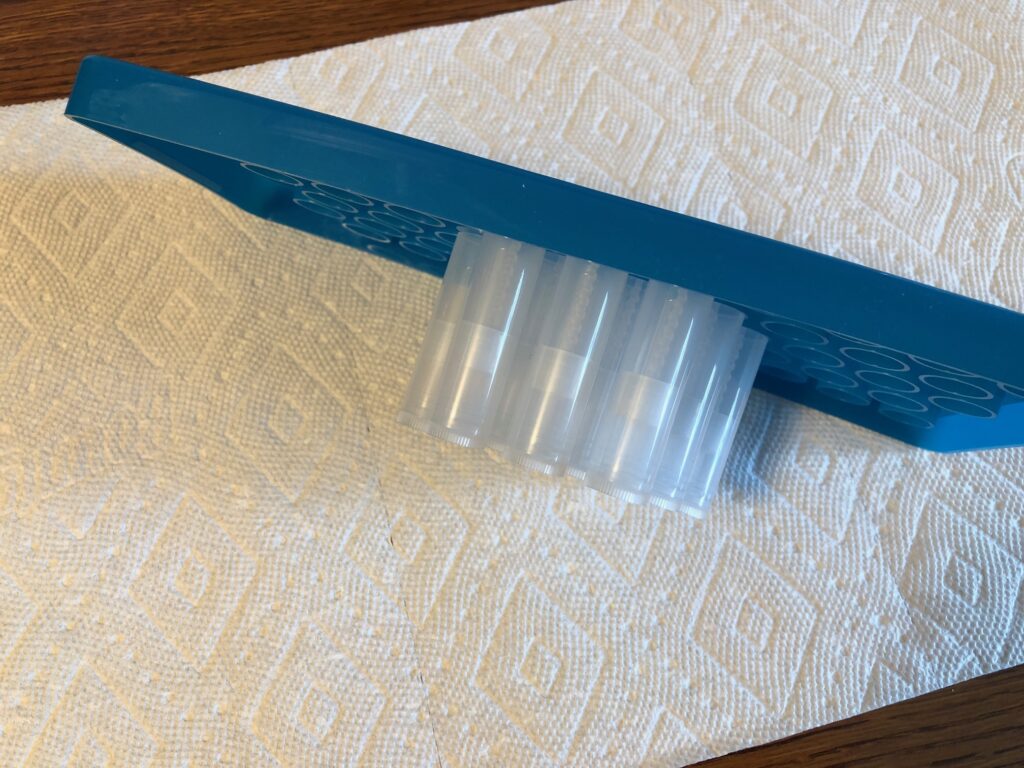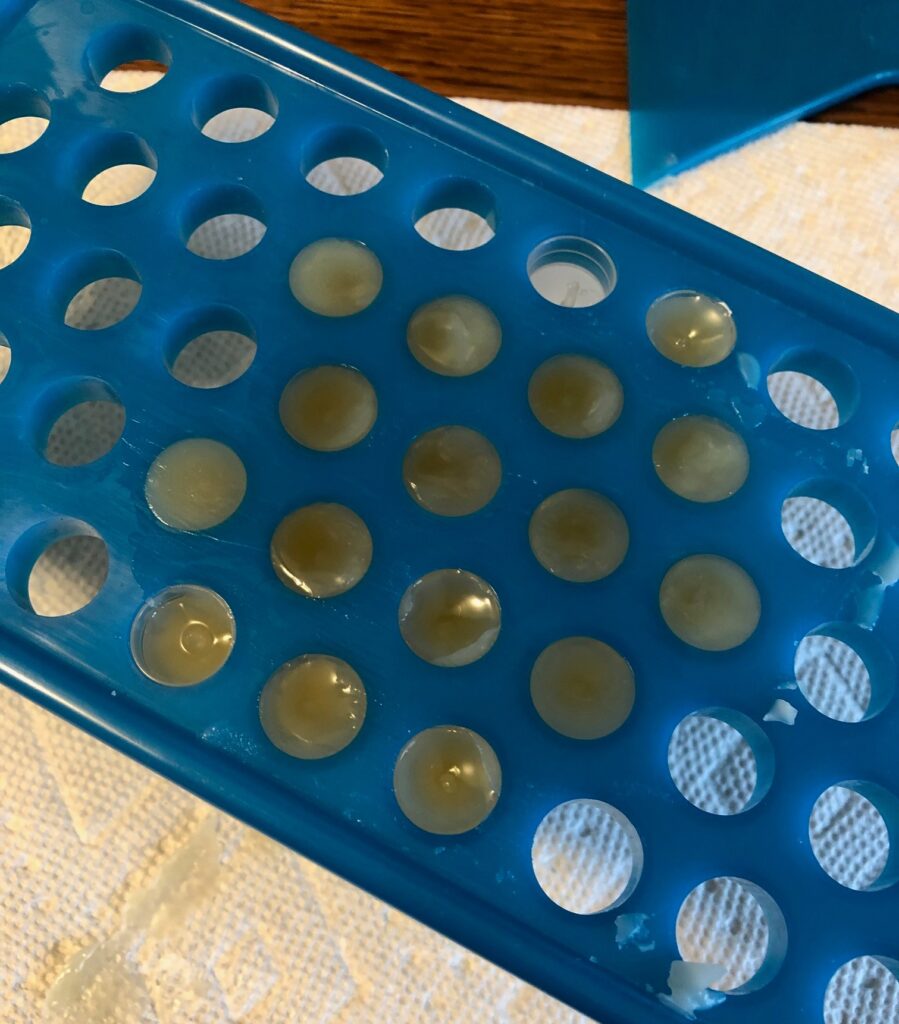 However, the latest batch of holders were from a different company and they fell right out before I could flip the holder over. On to plan B!
I had to change how I filled the tubes. I decided to line the tubes up on a paper towel and fill them with a disposable pipette. I had to be really careful to not bump the tubes as I filled them so they wouldn't fall over: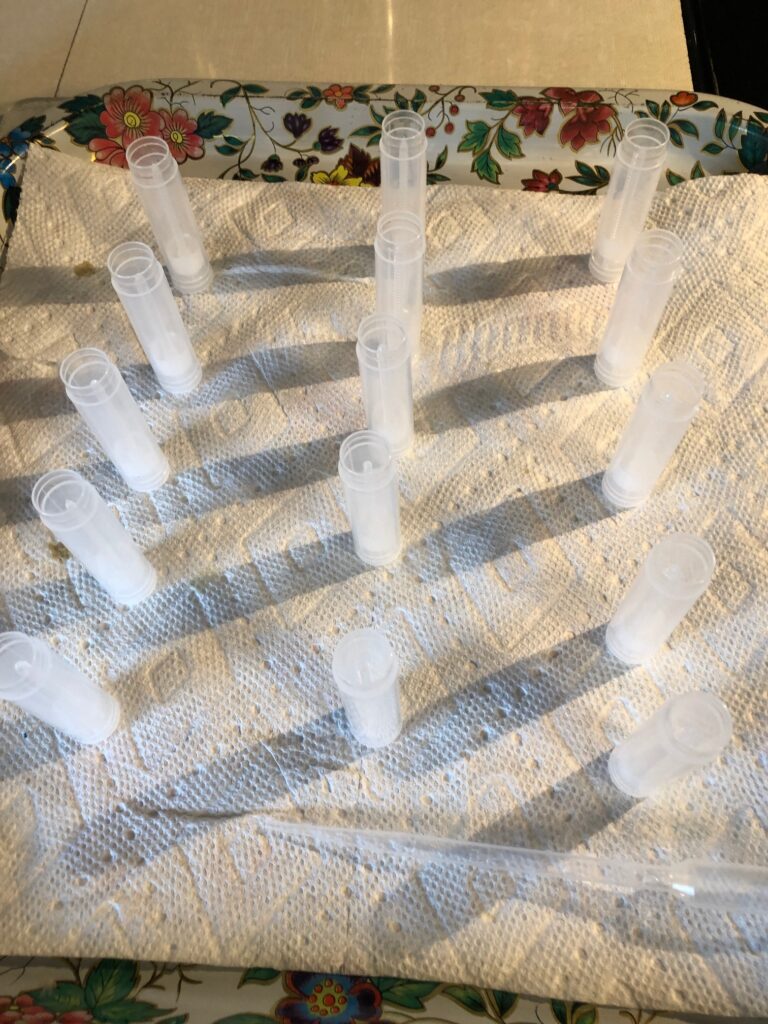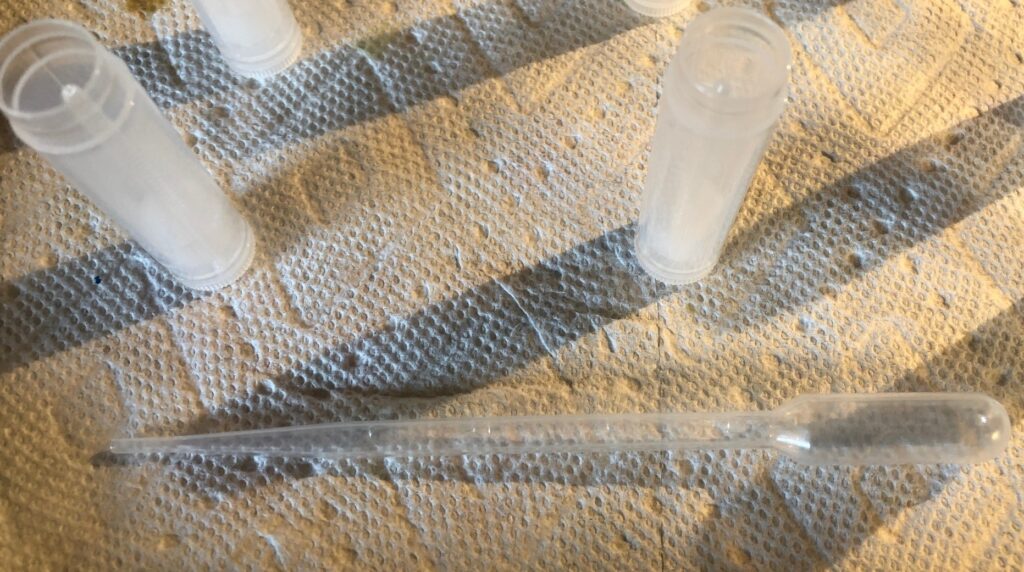 It took longer to fill each tube but luckily I didn't tip any of them over filled with hot stuff.
Now…on to the recipes!
Maple Coffee Lip Balm
First, I made the Maple Coffee Lip Balm. Here is the recipe: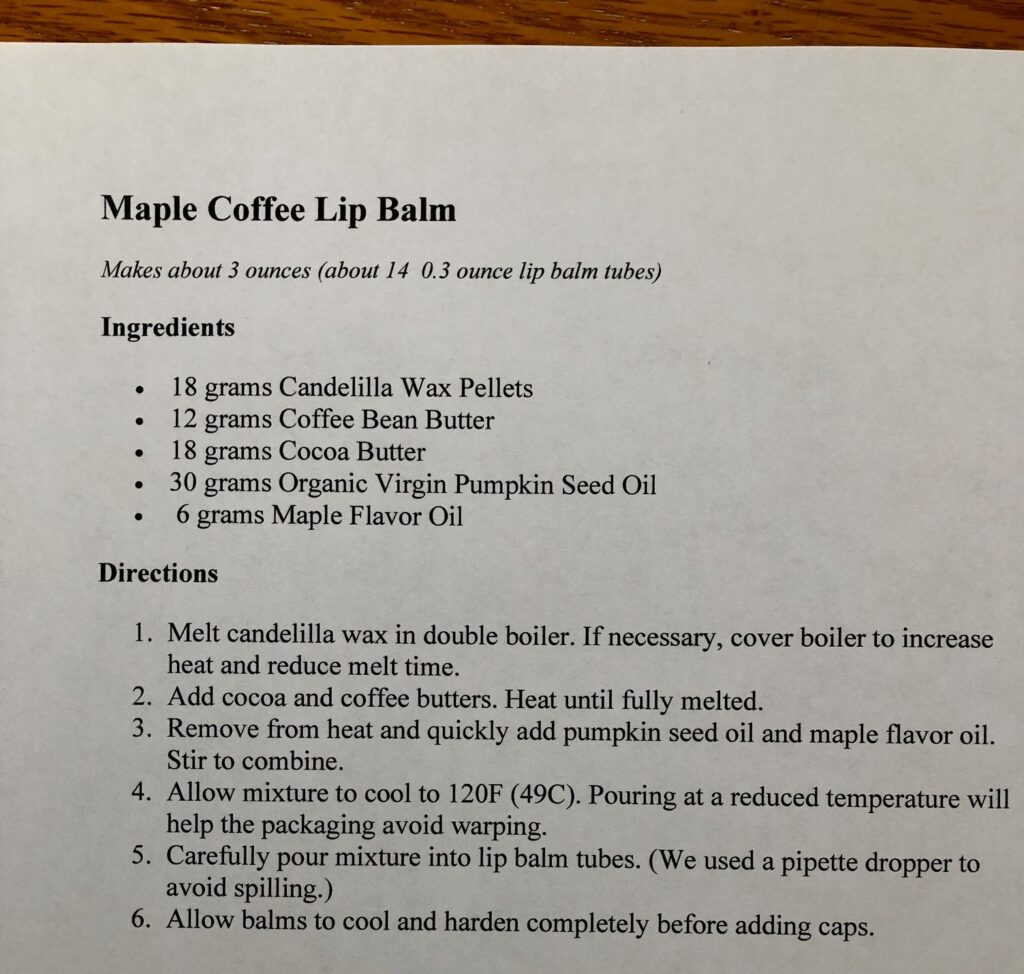 Here are the ingredients: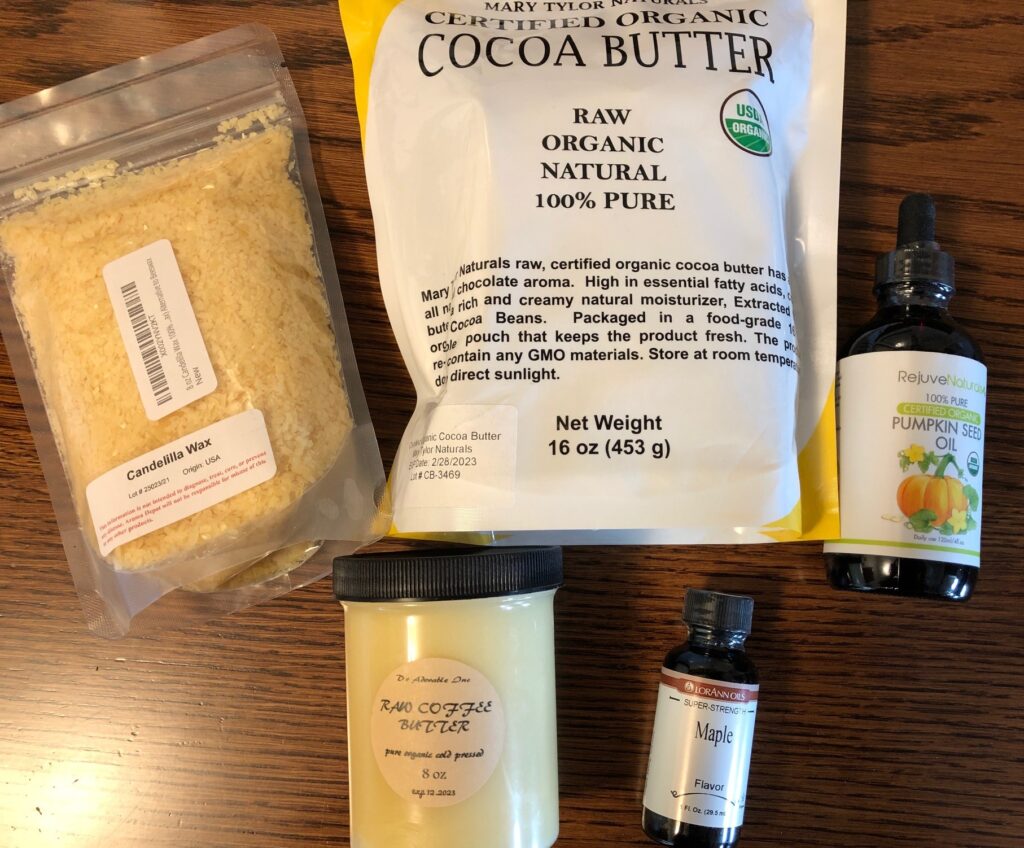 The Candelilla Wax has a higher melting point than beeswax and is similar to Carnauba Wax. I should be able to use it in other products. I can use the Maple flavoring in soap or cooking. I will have to research how Pumpkin Seed oil and Coffee Bean Butter can be used. Since I don't care for the smell or taste of coffee, the coffee butter will probably be used only in lip balm for others! I'll have a few coffee lovers test the lip balm for me!
Following the recipe, I melted down the wax, cocoa butter and coffee butter; then I added the pumpkin seed oil and maple flavoring.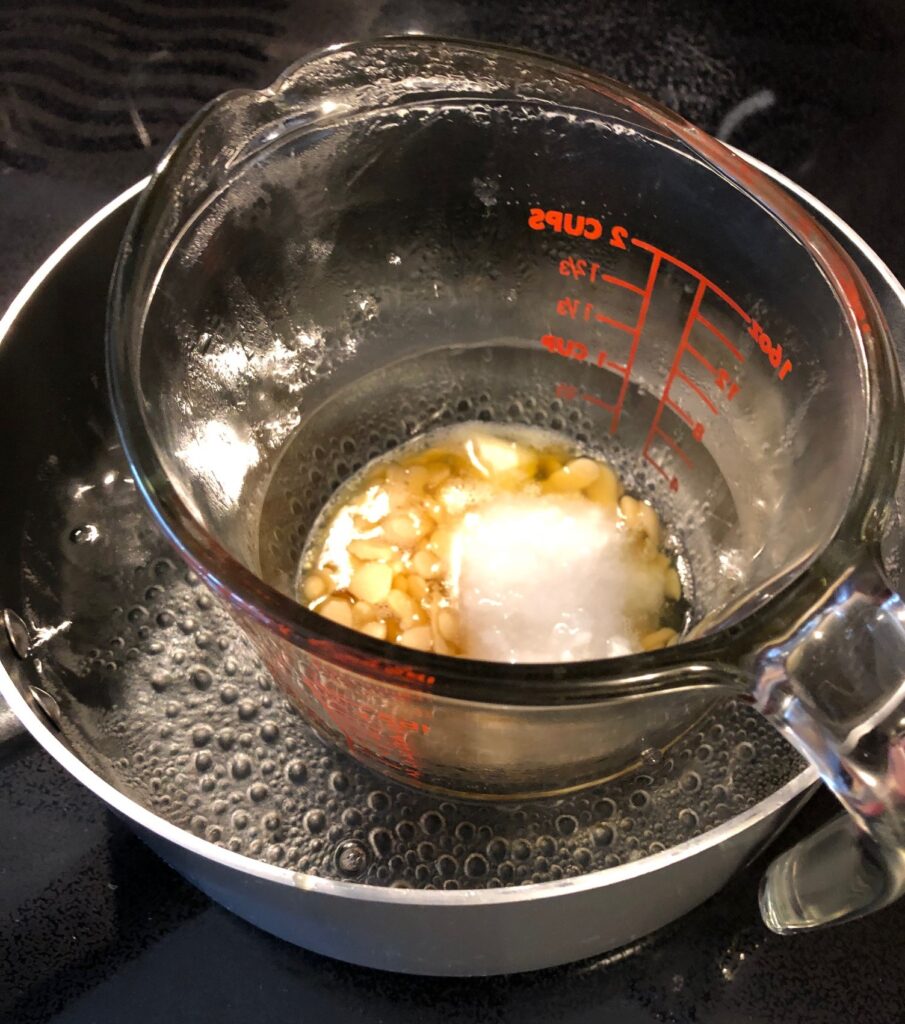 This lip balm turned out darker (like coffee!) but I think it was the Pumpkin Seed oil that did that.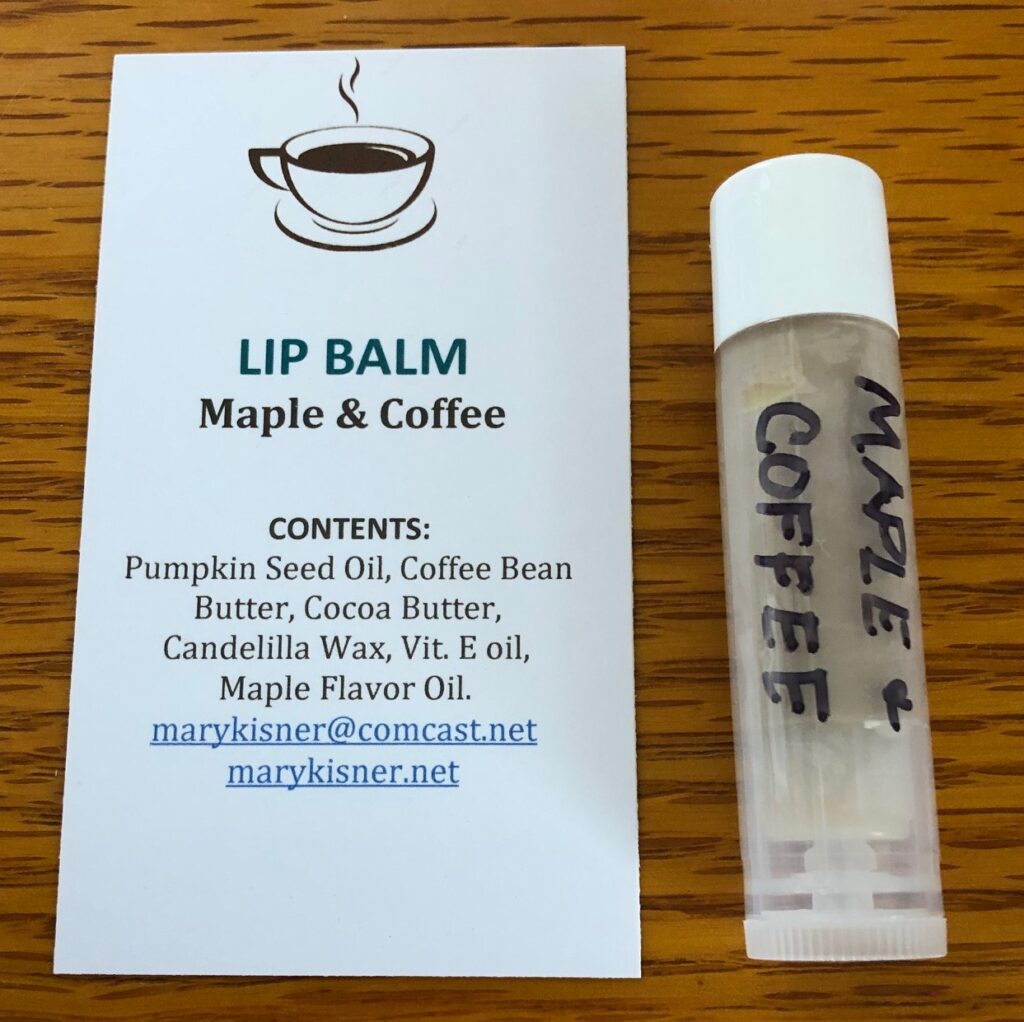 Orange and Vanilla Lip Balm
Here is the recipe: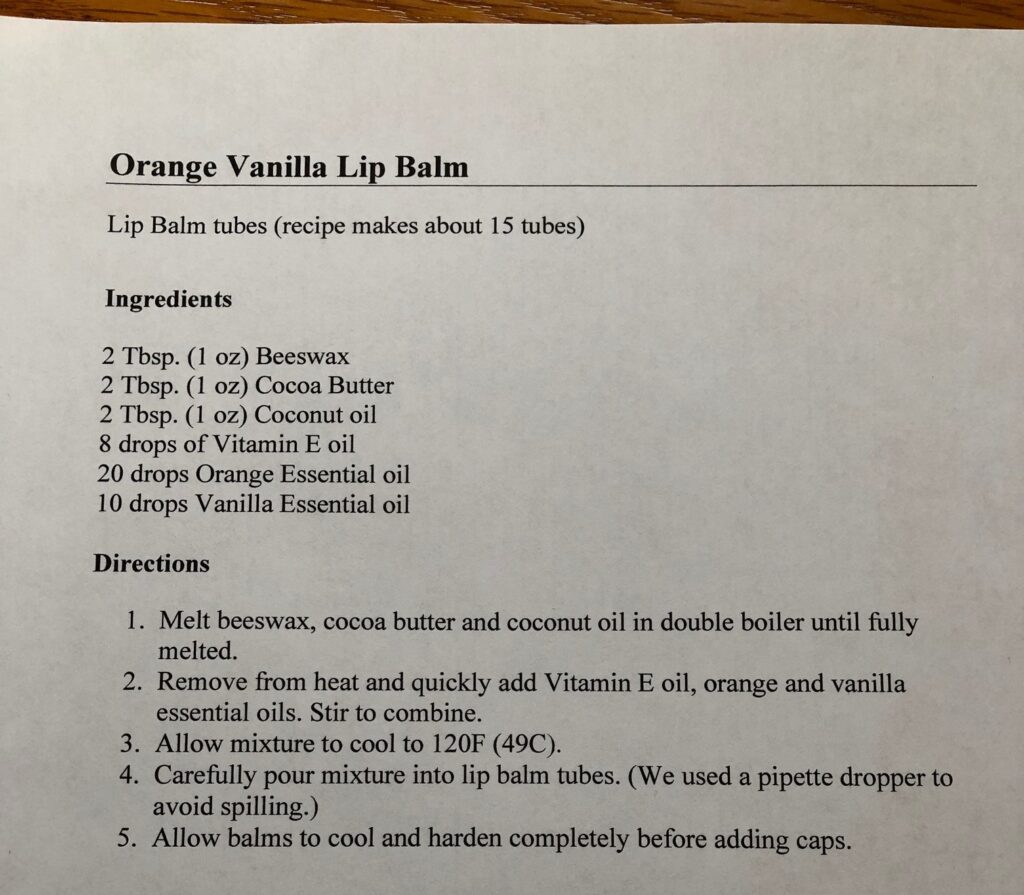 Here are the ingredients: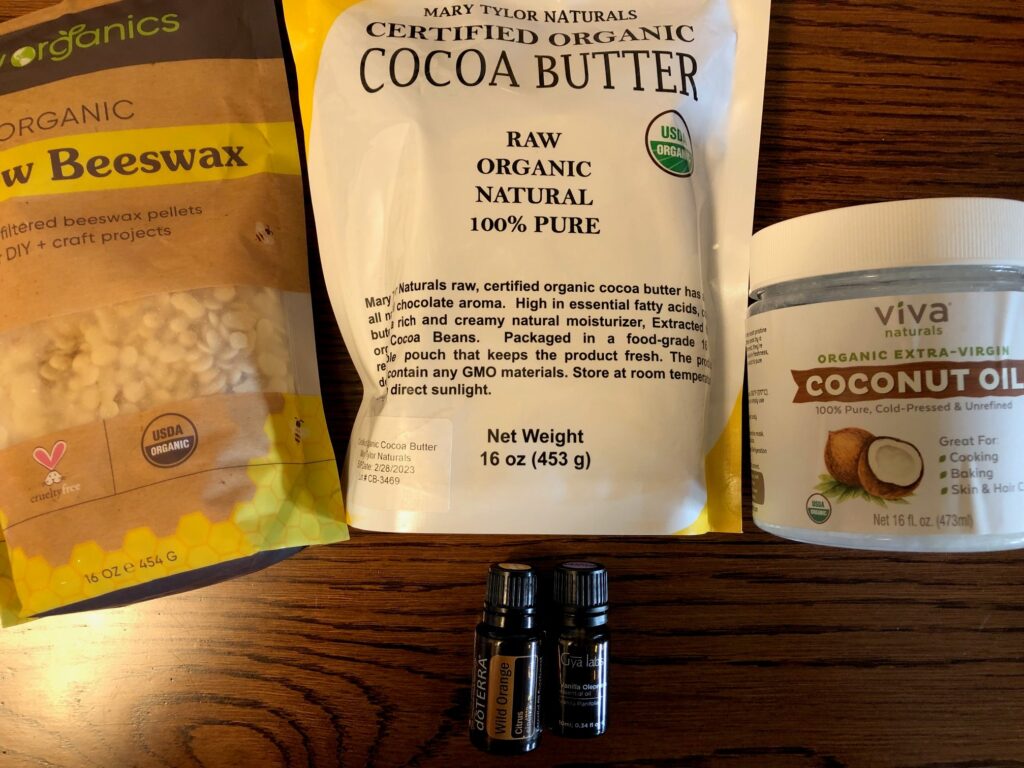 Following the same procedure as above, I melted down the wax, cocoa butter and coconut oil, added the orange and vanilla essential oils and carefully filled the tubes with the pipette.
They turned out great!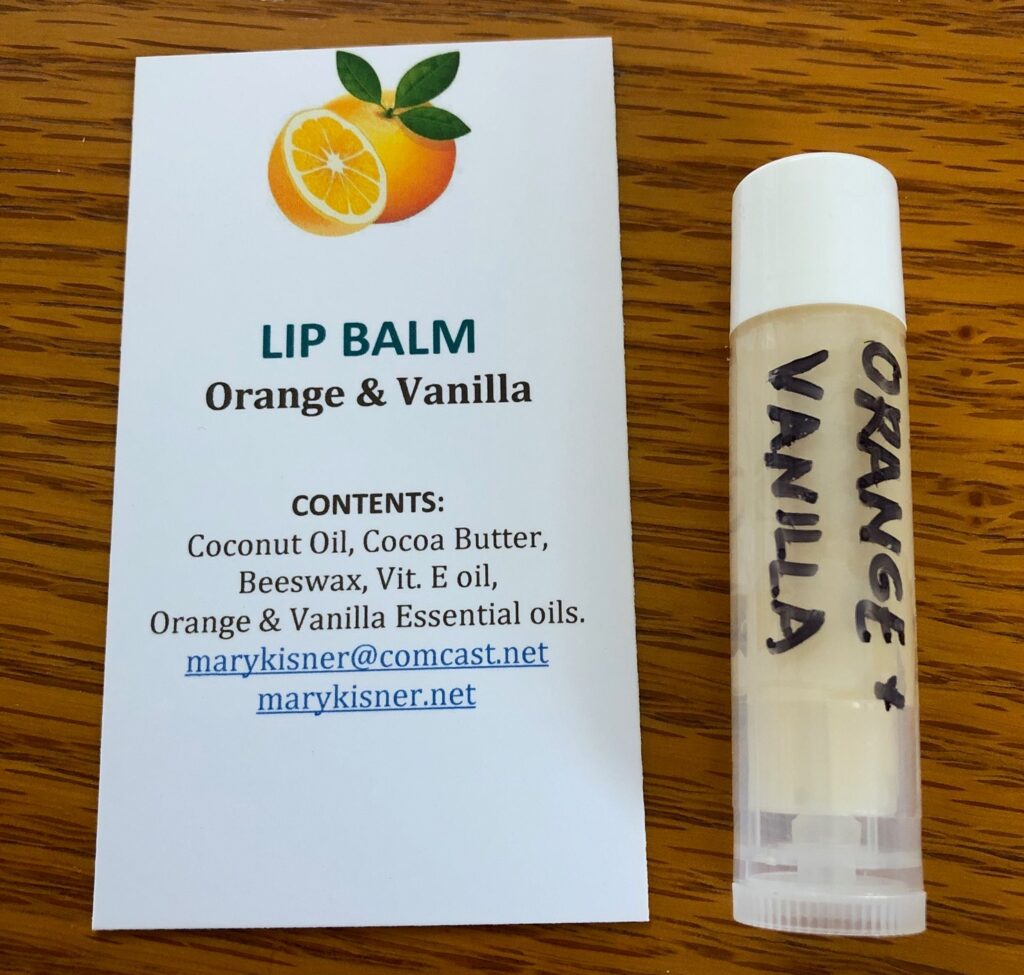 Bert's Invention
Bert watched me filling the tubes and said he had an idea. I sent him out to the shop with an empty tube to make me some kind of holder for the next time. This morning he presented me with this great holder!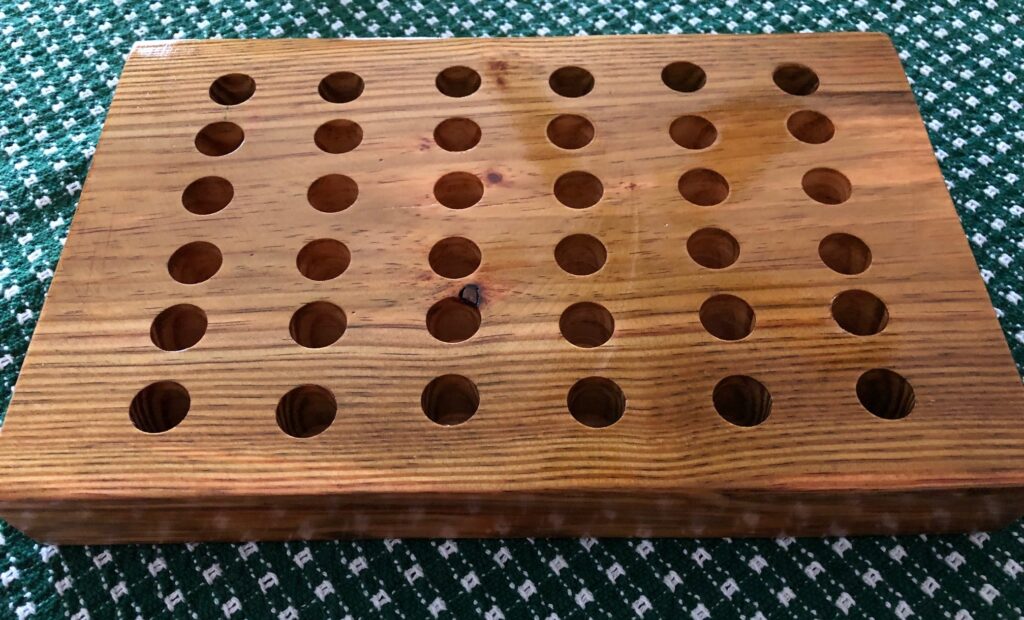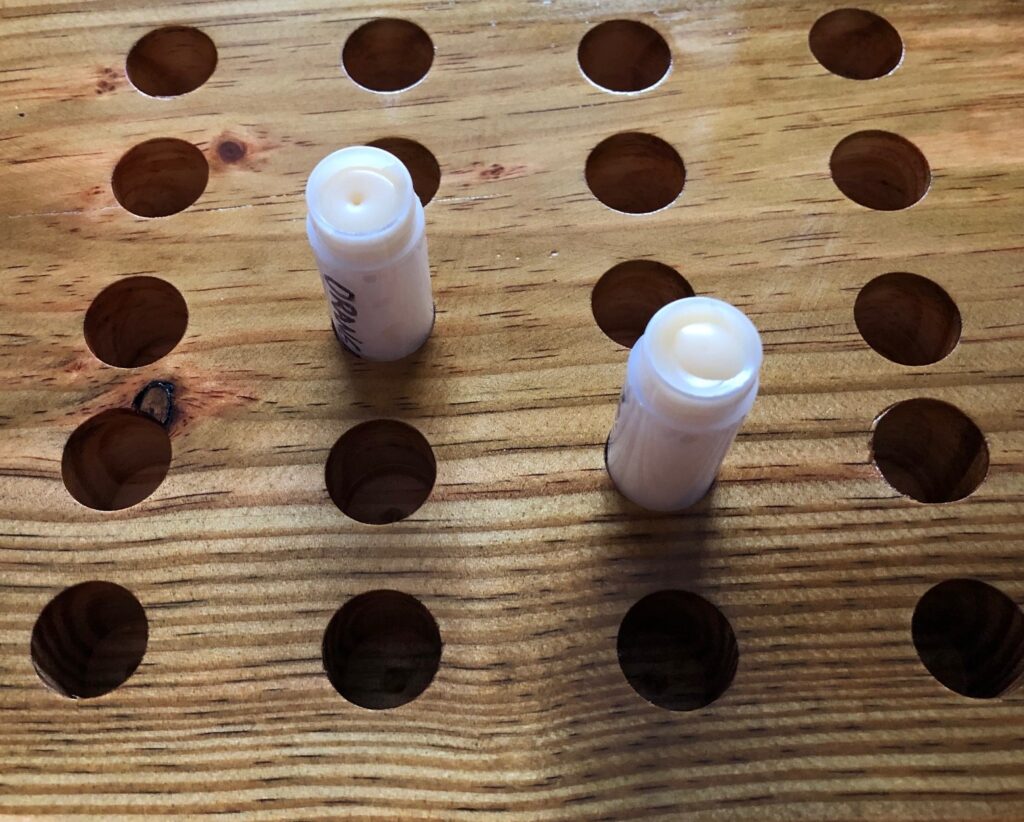 The tubes just fit and I can do two batches without knocking anything over! I did have to order some more disposable pipettes, but YEA! Next time, I'll enjoy using Bert's cool tool to hold the tubes! Enjoy!
Please comment or email me directly at marykisner@comcast.net.