The middle of July may seem like an odd time to be canning applesauce, but actually, it's the perfect time! This is the time of year when all my canning equipment is unpacked and ready for the tomatoes and cucumbers to ripen. While I'm waiting for other vegetables, it's also the perfect time to work with apples. They usually have been stored commercially in climate-controlled areas since last fall and by July they are much easier to peel and are usually less expensive.
On Monday I made a drive out to the local fruit farm and picked up about 3/4 of a bushel of apples. I first picked out 1/2 bushel of the nicest Fuji apples I could find. Then I collected a peck of Ida Reds. Fuji apples are "sweet & mildly sweet" and the Ida Reds are "crisp, tangy & sharp." As I cut them up, I chose some of each to get the benefits of both flavors.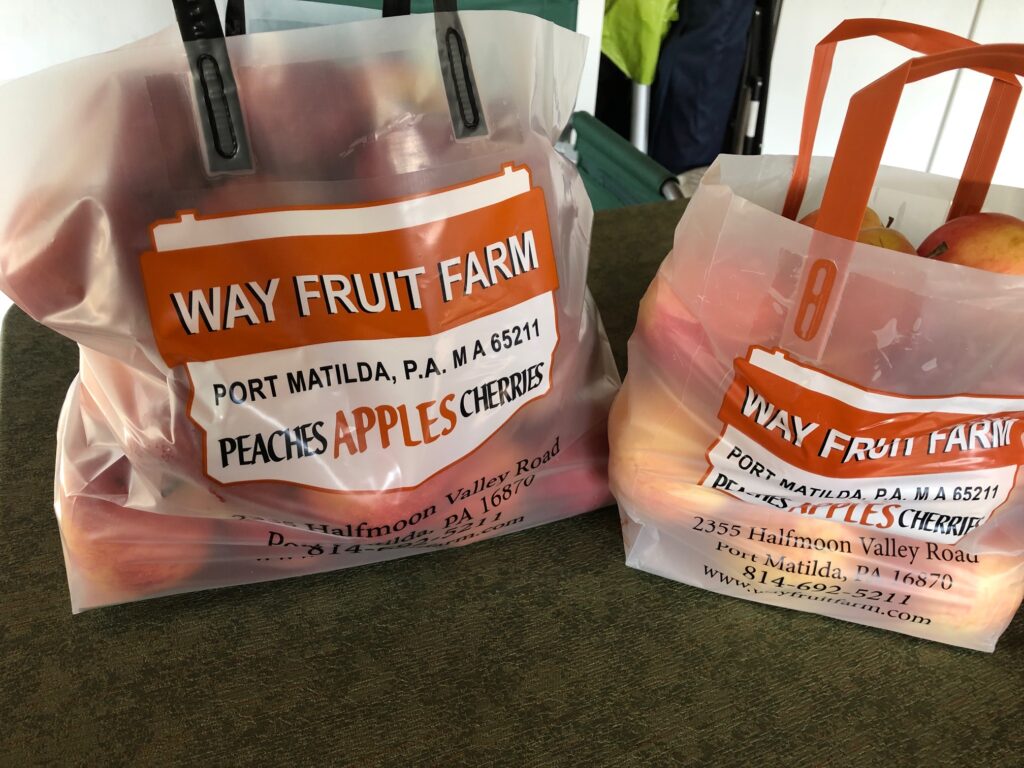 How Much Exactly is a Bushel?
I looked up the definitions of bushel and peck, because it's been a long time since I bought that many apples by that measure. A "bushel" is first a measure of volume. In the U.S. a bushel is equal to 8 gallons, 12 quarts, 64 pints or 4 pecks. (The Imperial Bushel, used in the U.K. is similar, but it can be used to measure dry or liquid products.)
A bushel can also be used as a measure of weight…and the government has established standard weights for each type of fruit, vegetable, nut and grain. A bushel of tomatoes, for example is supposed to weigh 56 pounds, as is a bushel of shelled corn. But if the corn is still in ears, a bushel is supposed to weigh 70 pounds. Leaves and greens take up more space with less weight.
A better way to clarify for the ordinary person like me, is to describe what you can do with a bushel of apples. For example, a bushel of apples typically holds about 125 medium apples. That's enough to make about 15 quarts of applesauce or around 15 apple pies. That information is so much more helpful for me.
So, this week, I bought 1/2 bushel of Fuji apples and a peck of Ida Reds (shown above). For future reference, that many apples made 28 half-pints of applesauce (equal to 7 quarts) and two apple crisps with about 12 apples left over. Not sure what I'll make now, but my hands are pooped out and I'll have to make a decision soon. Once the apples come out of storage they don't keep well.
A Fond Memory While Cutting Apples
I cut apples up for 3 1/2 hours on Tuesday and filled my 12 qt. pot to the brim with cut apples.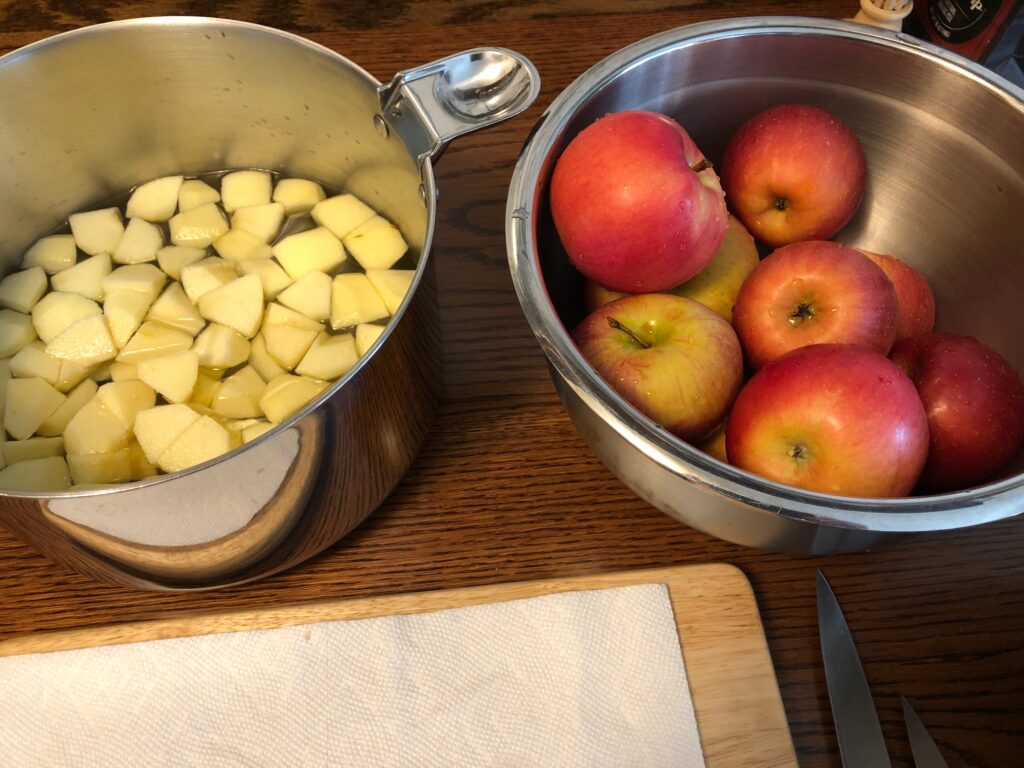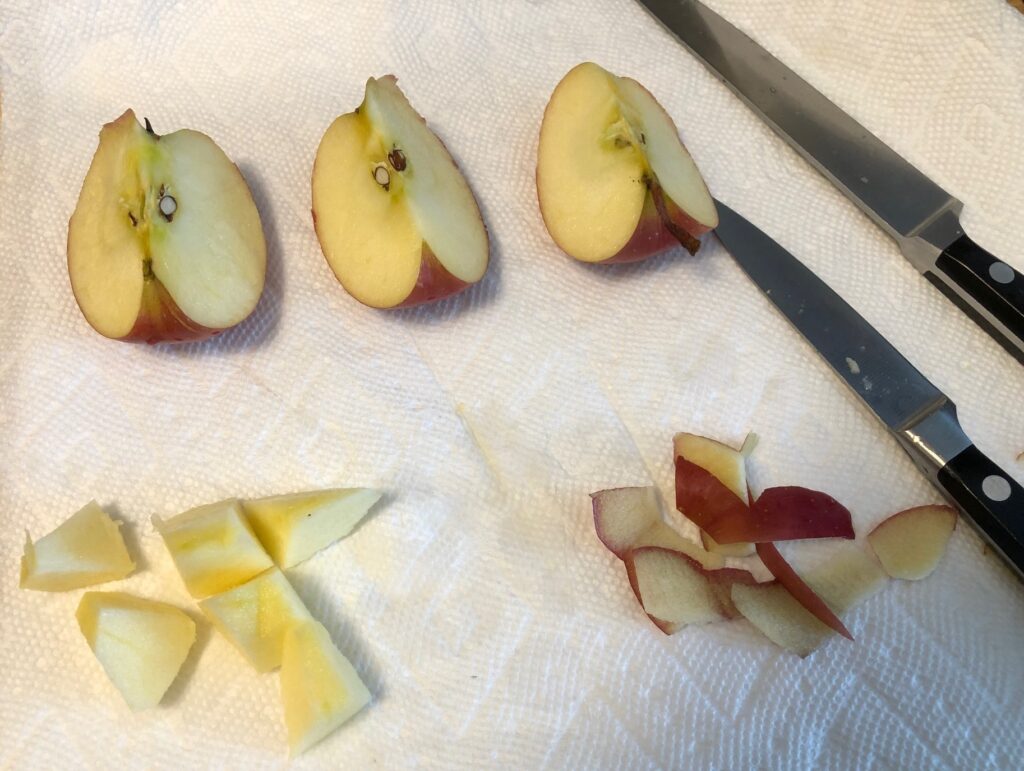 Cutting up apples is a pretty solitary job and I found myself thinking about all the times I watched and helped my mother cut apples for pies (my dad's favorite). When I was very young, I fondly remember her singing a silly song called, "A Bushel and a Peck." I finally took a minute to look up the lyrics and sure enough, I found them! It is really silly, but what a fond memory!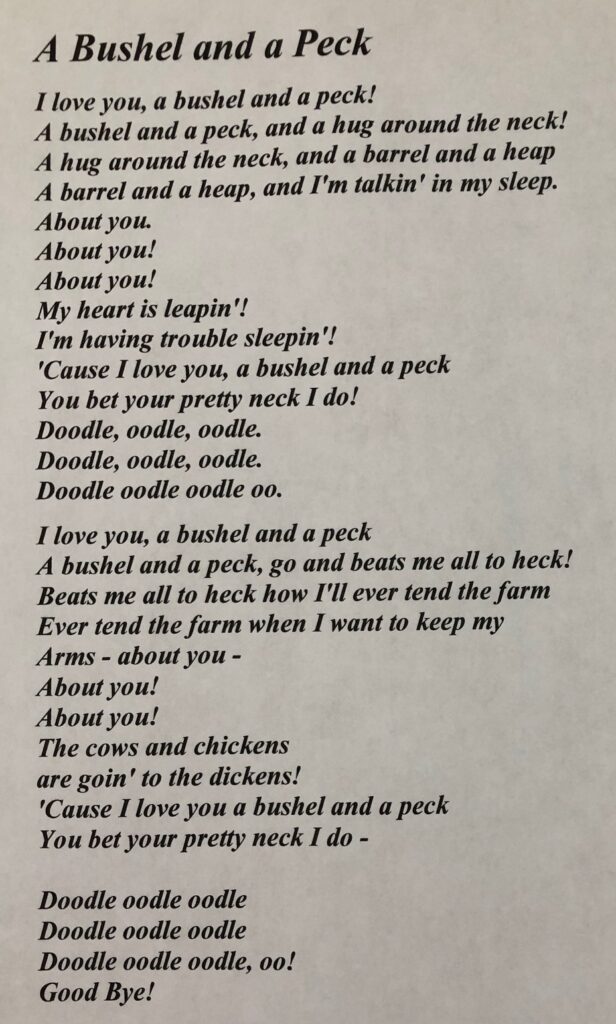 Continuing With the Canning Process
By the time the apples had cooked down, the full 12 qt. pot was filled only halfway.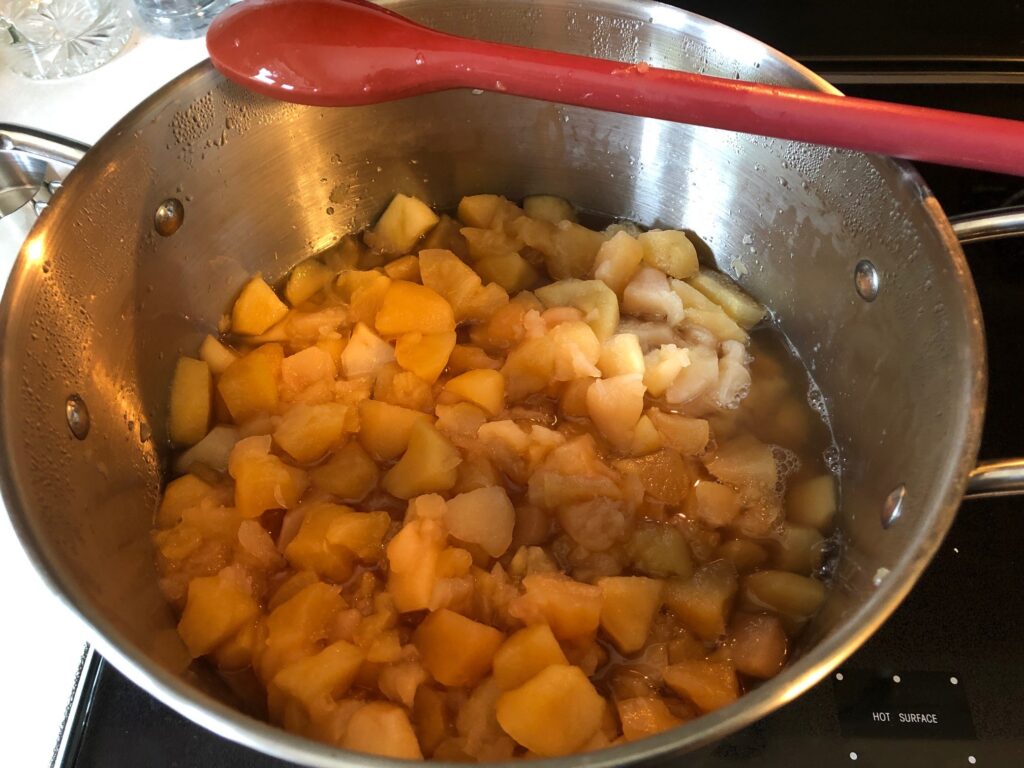 Then I scooped the soft apples into the food processor and gave them a quick zap. I don't mind the sauce being a little lumpy.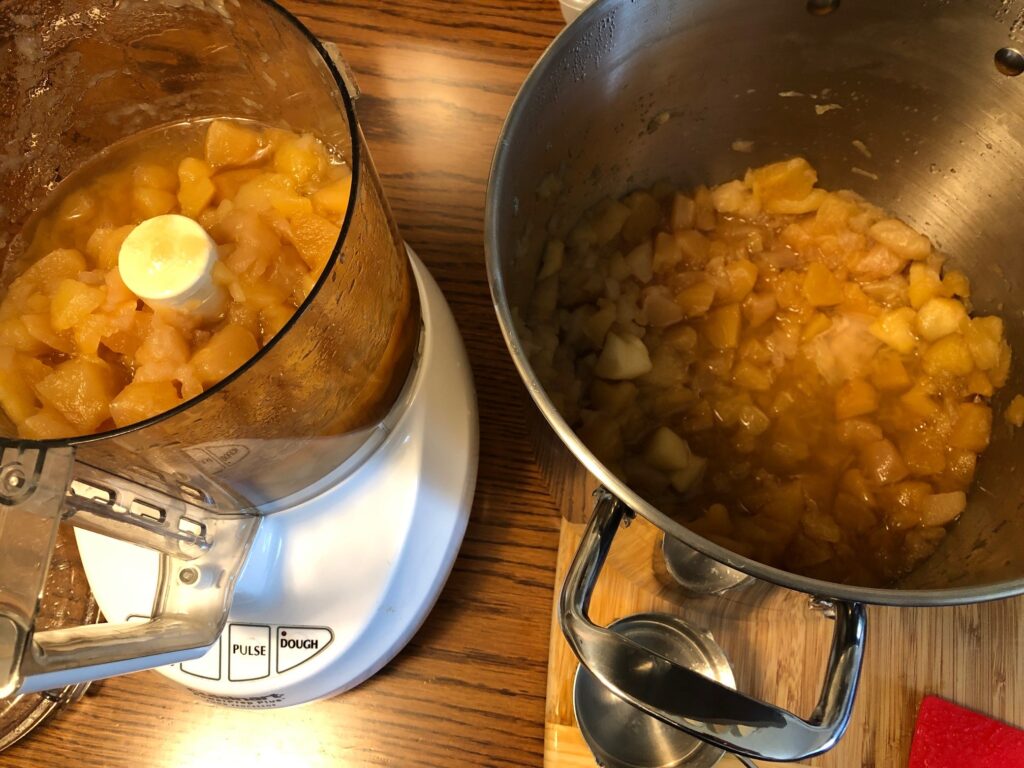 Then I put the sauce back into my smaller 6 qt. pot to simmer. I had to add a sauce pan for the overflow. At this point we tasted it and decided it needed a little sugar, so I added about 1 1/2 cups.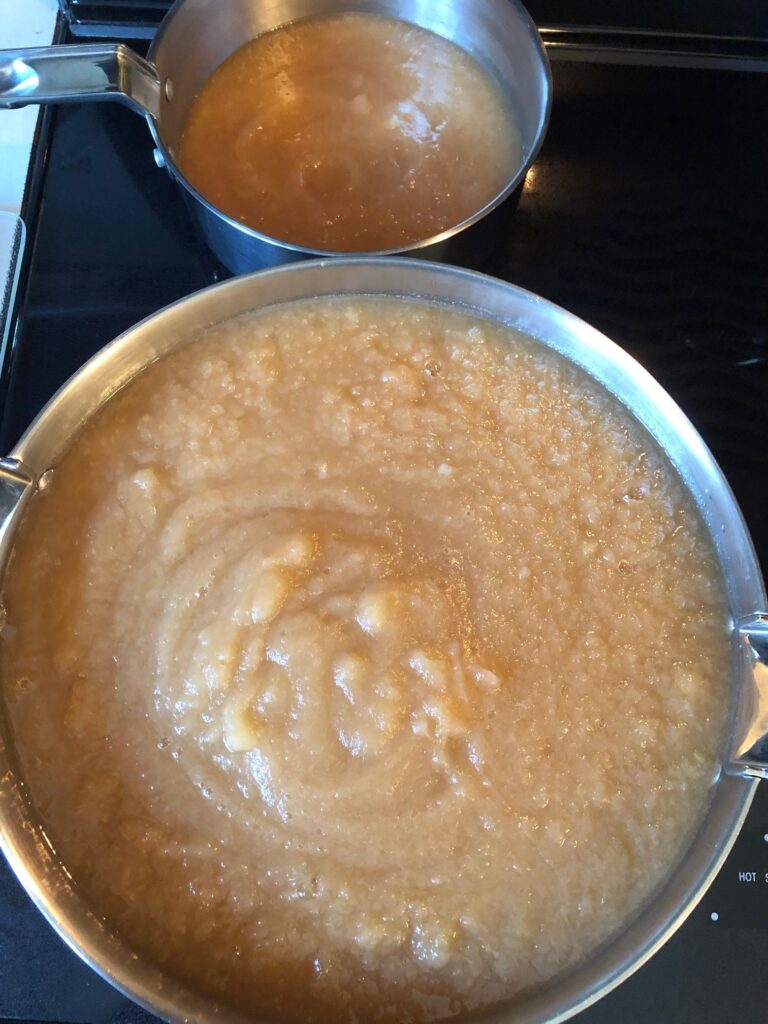 When divided up, the sauce filled 24 half-pint jars, plus 4 plastic containers that went into the freezer. The 24 jars went into the canner and were water-bath processed for 20 minutes. Now these lovely jars are ready for winter!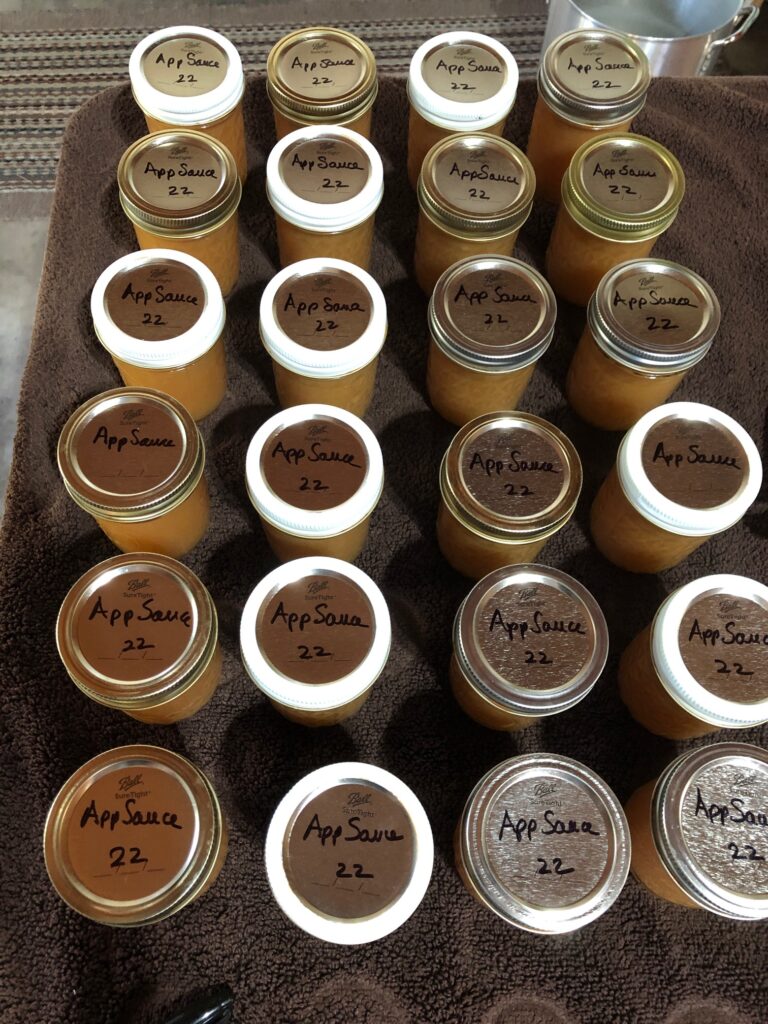 You might ask…do we really eat that much applesauce! While it's great as a side dish for pork, I do use applesauce as an ingredient in some vegan baking, as a substitute for eggs.
Do you have any treasured memories that come up when you're doing something your parents taught you to do? Enjoy!
Please comment or email me directly at marykisner@comcast.net.